I have written in other public fora that math is not apolitical, that the implicit messages in our silence on these issues is damaging to students,
and that mathematics has particular bigoted elements in its history and present framing that we must engage actively. In light of the attention being drawn to white supremacy and the related terrorism in part due to last weekend's events in Charlottesville, I am planning on opening the discussion of these themes on my first day of class next week. In this post, I will discuss 10 ideas for starting this conversation, explain 3 more detailed lesson plan case studies, and list resources shared with me by others. Readers are encouraged to comment with their own ideas, so the list of resources will grow.
Some people, including both students and educators, have suggested that math class is not compatible with discussing justice or diversity. While I reject this assertion and think I've refuted it in the links above, I am left without many established models for doing this work. There already exist useful resources lists for doing this kind of work under the hashtags like #CharlottesvilleSyllabus or #CharlottesvilleCurriculum, but most of these tools are for general purposes once the topic is opened. Given the perceived disconnect between math and discussions of identity and equity that some of my students bring to class, I am instead trying to open this conversation in a way that is specific to math. In particular, I think I am more likely to be effective in this work if I can help my students see these discussions as naturally connected to and appropriate for my courses.
In this post, I'm going to describe the kernels of ideas I have for this opening connection. I am definitely not the expert in either making these connections or leading the opened discussions, but I have ideas that might be useful. I encourage you to comment below in order to share other kernels.
My context is specific and peculiar, as is each of ours. In an effort to support generalizations of these ideas, I'm going to organize them around the aspect of the course/discipline that I'm connecting with justice or bigotry.

Pedagogy and course design: I'm going to explain the way I think learning works, so I can easily mention that part of the decision-making process involves thinking about whether it disenfranchises some students. Similarly, the work in my classroom is going to be powered by collaborative effort on tasks that are too challenging for individuals and that require multiple perspectives for optimal outcomes. In other words, this course requires diverse perspectives and will demonstrate that this outcome is more than the sum of its parts, and so is our society.
Diversity in the discipline: Several groups of people are underrepresented in our discipline.
I can connect this issue to my students' futures, talking about what we can do to address this problem, starting with our classroom. With the visibility of the film Hidden Figures, there's also a chance that students are aware of the need to look for mathematical expertise outside of the ranks of white men. Profiling a particular mathematician (and assigning students to do other profiles during the term) opens the door on discussions of the barriers placed before some people based on demographics.
History of the discipline: Proof writing is revisionist history, and the western view of math as ahistorical implicitly supports white and male supremacy by making other contributions invisible. Talking about the disciplinary narratives can open up that discussion. I think that the racism and intellectual imperialism themes in The Man Who Knew Infinity are particularly powerful and may be accessible through clips of the film. Similarly, there are historical figures in math who used to loom large but whose legacies are being reconsidered; talking about these movements offers a connection to the movements that seek to move statues of Civil War generals from pedestals to more thoughtful critiques.
Equitable access for students: College is seen as a bottleneck for people who seek prosperity and other forms of respect, and math is seen as a further bottleneck within this context. Reframing the course around success for all is an opportunity to counter the supremacists' claim that access for more people would mean either lower standards for all or fewer resources for those who are privileged by the status quo.
Content: If I'm going to consider an application or foundational example from the course, the context could just as easily be about topical issues.
Reason quantitatively or statistically about incarceration rates; model rates of change in family wealth; consider the logical structure of a statement about racism; talk about important challenges in the world that require the skills from your course. Vi Hart has some nice videos that use mathematical concepts to discuss current events.
Personal experience with the discipline: Lots of us have struggled with math and felt that the system rejects us, and the rest have seen this system treat someone we care for terribly. My graduate program was notably more diverse than others, in part because of efforts by faculty like Karen Uhlenbeck, but I have plenty of stories of fellow grad students being treated as incompetent based on gender or race and birth country.
Institutional history and local data: My students find local data and stories specific to this institution to be particularly compelling. We are significantly more diverse than we were even five years ago, though there certainly have been racist backlash events on campus. This year, we have a huge increase in the size of our international student population. I could engage the college-wide common readings and the institutional mission statement. In terms of a historical, mission-centered story, this Lutheran-affiliated college had an interesting reaction to the Scopes "monkey trial": college leadership announced that taking their faith seriously meant looking at the world rather than assuming they knew it, so they established a department of Geology. I'm sure there's a way to use this story to make space to discuss rejecting domestic terrorism today.
Policy statements: Leading professional organizations, including the MAA, AMS,
CMBS, and NCTM, have made statements either overtly about equity and justice in our field or that are grounded and justified by these concepts. Discussing these or quoting them on a syllabus is a powerful way to connect a conversation from one classroom with larger disciplinary norms.
Epistemology of the discipline: Viewing math as universal and absolute is a double-edged sword. Overtly, it suggests that all are welcome in math regardless of demographics and identity. In practice, this also means that the identity of white and male has been allowed to step into the position of "normal" without question or resistance (or even being seen as a step) while caring about or having any other identity is excluded, making the environment hostile. If the universality is shifted back to the ability of anyone to make arguments with the awareness that these arguments are judged and valued by groups of people, we can perhaps help math live up to its utopian ideals. The false equivalencies of the status quo and this intentional reformulation has strong parallels to the corruption of the founding ideals of the United States by white nationalists and their reformulation by more progressive thinkers (including James Baldwin's excellent "The Fire Next Time").
Other course components: Put these ideas in the syllabus and make sure the students read it. Send a pre-course reading, but make sure you scaffold students in reading it. Survey your students; even asking students their pronouns signals that you resist normative oppressions. Ask them to write a MathBiography about their experiences with and identity in math. Embed ongoing reading and reflection in the course. I would suggest "Teaching Mathematics with Women in Mind" and the Myth of Genius for gender and have heard good things about "Weapons of Math Destruction". I would also recommend this presentation by Dave Kung about diversity in the discipline, perhaps more for us than for students. My list of readings for students related to race is sadly thin.
Before I conclude with three lesson plans as case studies, I need to make two points:
I am tenured and I present as a white male to students who have just met me. My actions (or my silence through inaction) is filtered through this positioning. My privilege gives me a strong position from which to insist that we discuss these issues, my positioning may mean that the students who most need to rethink their privilege might listen to me because they think I may be like them, and my silence (were I to choose it) would be validating for the status quo and hurtful to those who most need support. These factors are different for different faculty, and I am certain that these differences impact instructors' options for engaging these topics.
The ideas above vary in goal and depth of engagement with issues of identity, justice, and bigotry. Some send strong signals to vulnerable students that you are an ally but may slip past other students unnoticed. Some help establish classroom norms that resist bigotry but function without overt reference to white/male supremacy as they go forward. Some bring students' thinking to the surface or even seek to teach/change them actively. My sense is that we want all of these elements in our courses and that we want them spread intentionally across the course for sustained impact. I do think that the distribution will depend on the context.
Case A: 1+1=2
One of the derisive comments on some of my previous writing used "1+1=2" as an example of a patently, in the commenter's mind, apolitical math, trying to show that I was off base. I disagree.
Historically, this kind of algebraic notation for arithmetic was brought to Europe from the Arabic-speaking world through trade across the Mediterranean (attributed to Fibonacci by some). This mathematical sentence is an artifact of both human invention and inter-cultural communication.
In order to make meaning of this number sentence, most people need to think of actual objects: one apple and one orange makes two fruit. This act of objectification is very powerful, and it is a human act, not a universal. The fact that you all know the phrase "the whole is more than the sum of its parts" means that there are contexts in which this kind of objectification is not appropriate or most useful, so it represents a choice and hence power. A bit more subtly, I suspect that the ways we map sentences to their logical structures in set theory can quietly reject certain kind of concepts. Intersectional feminism was born from the idea that discrimination against a black woman need not be simply general racism or general sexism.
The equal sign has its own history as a symbol, but it also has a very complex life now. Sometimes it means that two objects are equivalent. Sometimes that one object is defined in term of another. Sometimes it encodes a restricted domain for another function. Sometimes it's an order to compute, others a command to solve for an unknown. One of the most challenging aspects of elementary and secondary mathematics is coming to integrate these multiple conceptions and to select the appropriate one in each context. One of the ways we track students out of the discipline is by assuming that inaccurate interpretation of this complex symbol is purported evidence of incompetence (despite the fact that some students have no systematic support for integrating these interpretations). This is a tool of denying individuals access to power; it's the handshake of our secret society.
And in practice, the number sentence is used by people for doing and communicating math, and any time there are groups of people involved there is power. Moreover, the narratives around which ideas are important are tools for building and maintaining power. How many of our departments contain any mathematics from the non-Western world? And those that do, how many frame it as a single course in non-Western or ethno-mathematics, with the implicit othering in this labels?
So, while "1+1=2" references a (potentially) universal truth, as groups of humans we interact with these linguistic representations and cognitive moves, making this string of characters far from "apolitical".
Plan: Write "1+1=2" on the board. Ask students what it means, how they know that, and what assumptions they had to make in order to come to that conclusion. Be prepared to draw themes like the above from their observations.
Case B: "Student Names"
I learn my students' names as they enter class on the first day. I use various learning strategies, and I ask the students to move around and change their appearance in order to give me more challenging and realistic testing situations.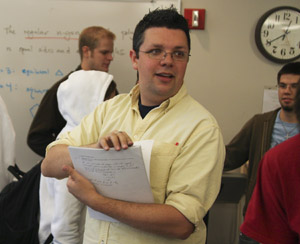 Then I ask one of the students to name all of their peers. They can never do it (at least in my ~20 person calculus courses). I use this moment to ask them what I did to learn their names, and then I ask them if they want this to be a class in which they watch me do these things or they do them themselves. They always vote for active learning.
Then we move to them learning peer names. I usually ask them to alphabetize by the name they wish to be called in class. (This task is purposefully ambiguous to model the expectation that this course will require collaborative effort and group decisions. It also implicitly suggests that they will be moving around in class.) This year, I'm thinking of pointing out that they never even discussed which alphabet to use for this ordering.
Once they are ordered, they introduce themselves as well as everyone who has already been introduced before them (in the style of an ice-breaker). I model other aspects of group discussion facilitation. This certainly communicates that they need to know their peer's names, and we reflect on the assumptions about active learning that I'm instantiating with the exercise.
Almost every time, one of the students uses a gendered pronoun to refer to a peer, despite the fact that it's counter-valued by the task. I will take this moment to point out that it's inappropriate to gender a person without knowing their pronouns. Sometimes a student will say something with a cultural component that gets treated inappropriately, and I offer a revised statement. In this moment, I talk about why that kind of mistreatment is at odds with the values of this classroom and the beliefs about learning that power it.
I plan to end this activity with overt discussion of these themes, grounded in the pedagogical choices for the course. In the past, having these discussions early allows me to connect ongoing events on campus (like #BlackLivesMatter protests on campus) to the values of our classroom.
Case C: Open Questions
I ask my students to introduce themselves on the first day of class and to reflect on their beliefs about our discipline through a MathBiography.
I usually do my own introduction via a prezi entitled "Mathematics (Mis)Conceptions". The prezi helps students see some of the philosophical questions about the field that excite me and also to view the field as a living discipline rather than a collection of facts. Students find these ideas very interesting but also destabilizing. In this destabilized state, I think they will be receptive to other questions: in what ways are these beliefs contributing to the exclusion of some groups of students from the field?
My plan: If I had to teach this first class right now (rather than on Monday), I would start with the name-learning activity and discussion of values (pedagogical and otherwise) for 45 minutes, do my own introduction with the misconceptions prezi for 15 minutes (without the final question), ask them to think about and discuss 1+1=2 for 10 minutes, and then return to the final question from the prezi for a 5-minute wrap up that explicitly connects with the events in Charlottesville if those connections haven't come to the surface already. The plan is still a draft.